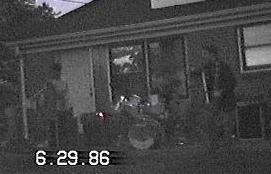 CRC Online is proud to present the classic 1986 CRC Day concert, featuring Central Rock Company performing live in the back yard of the Quillen house on Millstone Drive in Richmond, Kentucky. The concert was held on the 29th of June (the date is taken from the song "Sitting in My Room").
Central Rock Company consisted of Kurt Adams and Shay Quillen on vocals. The backing band for CRC, known as the Dismembers, featured Jeffrey Scott Holland on electric guitar and Chris Staples on drums. The opening act for the concert was Decembrist Uprise, and Decembrist Uprise keyboardist William Hill can be heard on "Tainted Love" and "Holy Moley." This concert was videotaped and recorded by CRC manager and producer JLK.
The set list for the concert is as follows:
We Are CRC
Tainted Love
Holy Moley
I Hate Cool People
Polka De Pineapple
Sitting in My Room
Stephanie
Satisfaction
This concert is encoded in RealAudio, so you must have RealPlayer® on your system in order to listen to this show. The original encoding was done by JLK for the now-defunct Pusm Radio website, and is used with permission.
Click here to listen to the complete concert!
Listen to a specific song:
Intro/We Are CRC
Tainted Love/Brady Bunch Theme
Holy Moley/I Hate Cool People/Polka De Pineapple
Sitting in My Room/Stephanie/Satisfaction
---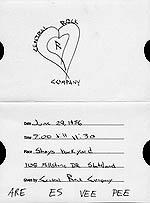 An original invitation handwritten by Shay Quillen for the concert
Click on the above link or image to see a larger version
(opens in a new browser window)
---